Enryu Hyper Rescue Robot Back in the News
The very cool T52 Enryu Support Dragon Hyper Rescue Robot was back in the news this week. Suffering under the weight of record snow, Enryu has been pressed into service as a snowbusting megamachine.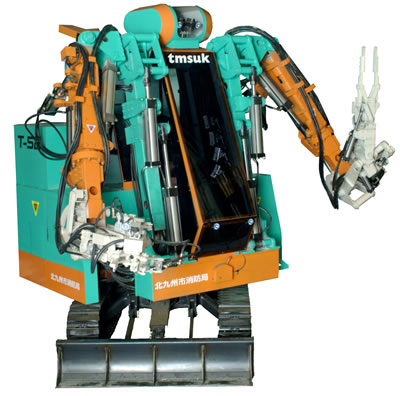 A model tested Thursday in Niigata prefecture, at the heart of Japan's snow country, has two hydraulically operated arms with a reach of 5 meters, each capable of lifting 500 kilograms, according to company spokesman Shiro Fujita.
In the tests, Enryu successfully lifted a car from deep snow and simulated knocking ice and snow off rooftops with the help of a sophisticated, Fujita said.

(From Japan Tests Snow Rescue Robot)

For more details and pix, take a look at my original story
T52 Enryu Support Dragon Hyper Rescue Robot
- Enryu, a telefactoring rescue robot capable of lifting steel girders and tearing the doors off cars, was demonstrated to the press yesterday.